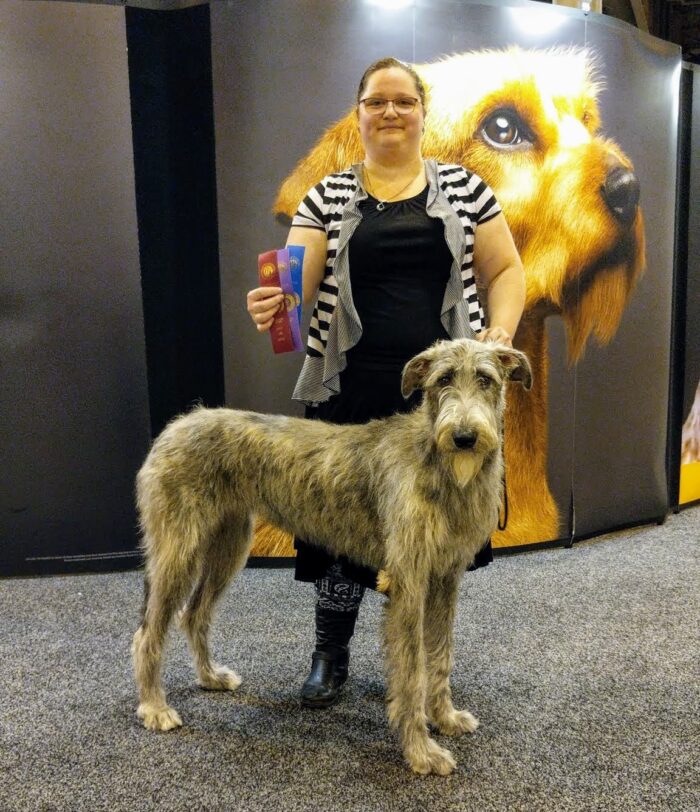 Our Program
At all times we will follow the Irish Wolfhound Club of America's Standards for both members and breeders. Many of the items on our puppy sales contract, including the contract itself, are a direct result of these crucial guidelines. For more information on the IWCA's requirements for breeders, please click this link.
https://www.iwclubofamerica.org/codes-standards
Health
All of our breeding dogs will be fully health tested and have obtained the CHIC certification with the Orthopedic Foundation for Animals. These rigorous health standards go far and beyond a simple 'vet check' and help us avoid as many genetic health concerns as possible. Puppies will also receive all age-appropriate vaccines, heartworm/parasite prevention, liver shunt testing, and microchipping before going home with their new owners.
Conformation
"Of great size and commanding appearance." – IWCA Standard of Excellence
Our dogs will be shown in AKC and UKC conformation so that they may be judged against the Irish Wolfhound Standard of Excellence set forth by the IWCA in 1950. We rely on the knowledge and experience of skilled judges and preservation breeders to help us determine whether or not our dogs are excellent examples of the breed.
Performance
"He is a superb athlete and an endurance runner." – IWCA Standard of Excellence
Along with conformation dog showing, it is important to us to select dogs that show an aptitude for the job they were originally bred for, which is chasing and running down prey. While it is not common to use Irish Wolfhounds for hunting these days, especially in the United States, their ability to perform can still be evaluated and judged with a variety of sporting events such as Lure Coursing and Racing. We have competed with our dogs in AKC Lure Coursing, AKC FastCAT, LGRA Racing, and hope to include ASFA soon as well.
Temperament
"The Gentle Giant" of dogs.
Irish Wolfhounds are typically well-mannered and even-tempered dogs who excel in the family home. Above all else, our goal is to produce puppies that are easy to live with and provide many years of joy and companionship to their owners. To that end, our dogs are evaluated by several methods to both instill and prove an appropriate temperament. A dog of such size and strength should not be a struggle to work with or train. We use Puppy Culture socialization and early training for our puppies and also put Canine Good Citizen titles on our adult dogs. We have also earned American Temperament Test Society's certification and other behaviour/temperament titles such as AKC's Trick Dog with plans for many more in the future. We consider these to be a natural extension to the basic obedience training necessary for every dog and strongly encourage our puppy owners to explore these fun events!
Our Mentors
We thank every breeder and experienced Irish Wolfhound person that has offered us support and encouragement as we begin our journey as breeders. Of special note are the following:
Donna Yeldell at Steppin'Wolf Irish Wolfhounds
Karen Roberts Brinkley at Wild Hunt Irish Wolfhounds
Jackie Carswell at Carnasserie Irish Wolfhounds
Why 'Fireswift'?
The name Fireswift is perfect for our kennel because it conveys several attributes I see and appreciate in the Irish Wolfhound breed; Their power, their speed, their size. There's something truly bold and breath-taking about seeing a giant sighthound flying at full speed across open terrain.
"Irish Wolfhound is remarkable in combining power and swiftness with keen sight."
The name is also a reference to a Dungeons and Dragons campaign that my spouse and I have been playing for nearly 16 years. (Big time Nerd Alert, right?) Fireswift is the name of a fictional trade empire founded and run by a red half-dragon sorceress. I chose to resurrect the name for our kennel because for us it embodies a sense of adventure and fun, which is the same way I feel when spending time with our dogs and watching them enjoy themselves at shows, coursing, and other fun events.